Repeat Marking Tool¶
Starting in version 1.4, galvo laser users have access to the Repeat Marking Tool. This tool enables the use of a rotary table or linear axis to move parts past the laser while running jobs. This is typically used so you can engrave multiple pieces quickly and consistently.
You can find the Repeat Marking Tool by going to Laser Tools >> Repeat Marking
Warning
The Repeat Marking tool is separate from, and incompatible with, the Rotary feature. When using Repeat Marking, make sure that rotary mode is disabled.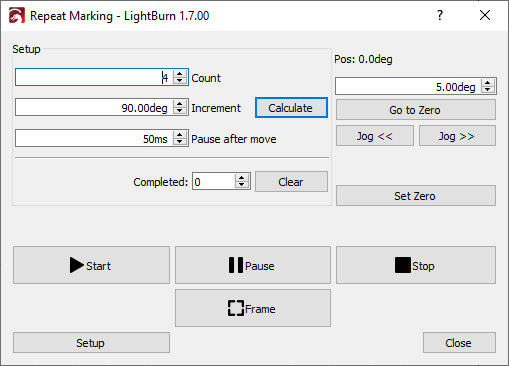 Count¶
The desired number of repetitions.
Increment¶
The angle to rotate the axis between repetitions.
The Calculate button is only available if the axis type in Setup is set to rotate, and can automatically calculate the rotation increment based on the number of positions in your rotary table. To use it, set Count to the number of positions in your rotary table, click Calculate, and then set count to the actual number of repetitions you want.
Pause After Move¶
If your rotary table wobbles when it stops, adding a pause here gives it time to settle before marking starts again.
Position¶
This section shows the current position of the rotary table or linear axis and allows you to manually control it. The top line shows the current position.
The number box allows you to set how far the motor controlling the axis will turn when manually jogged. Go to Zero will return you to your starting point.
Controls¶
Start, pause, stop, and frame all work as they do elsewhere in LightBurn.
Setup¶
Click the Setup button to enter the setup window and configure your rotary table.