Moving LightBurn To Another Computer¶
After setting up your LightBurn installation the way you like it, you may find yourself installing LightBurn on a new computer and needing to repeat this process. This guide will cover LightBurn's built in tools to migrate your settings to a new computer.
Info
If your computer doesn't have the seats to keep both copies active at the same time, you may need to see the License Activation for directions to deactivate one seat and activate it on the other, or use the Trial temporarily to confirm you're all set up first.
LightBurn Settings¶
To export the settings of LightBurn to another computer:
On the computer you've already set up, open File and then Export Prefs to bring up the dialog to save a LightBurn Preferences File (.lbprefs) to a file. This will produce a file containing settings like your Adobe Illustrator Import Resolution, Font Size, Grid Size, and more.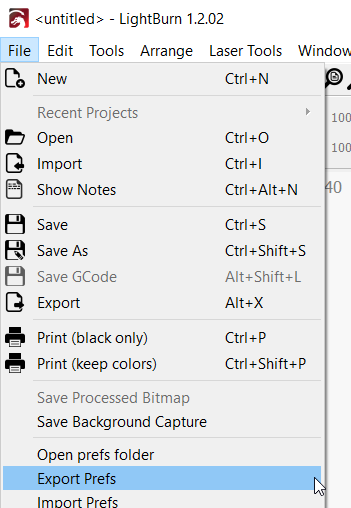 Move the .lbprefs file you've saved to the new computer. From there, open File and then Import Prefs. Confirm that you want to overwrite your current preferences in the dialog box that pops up, and your settings should be loaded on the new computer.
Device Settings¶
You may want to export a specific device's setup to the new computer, particularly if it was a device that had to be added manually.
On the computer that already has the device set up, open the Devices Page from the Main Window. Select a laser, then click Export. The file dialog that pops up will allow you to save a LightBurn Device File (.lbdev) containing the device's setup info.
On the new computer, return to the devices page, click Import, and load the .lbdev file you just created.
Libraries¶
To export an Material or Cut Library, copy the file from the old location on your computer to external media, a thumb drive, cloud storage, or other storage medium. In the new LightBurn installation, Load the Art Library or Material Library as outlined in their respective sections.
SHX Fonts¶
As SHX fonts just need to placed in a location LightBurn can open, you'll need to copy the SHX Fonts folder you had set up in your Settings to the new computer, and once your LightBurn Settings are imported as outlined above, you can change the path to match their location on the new computer.